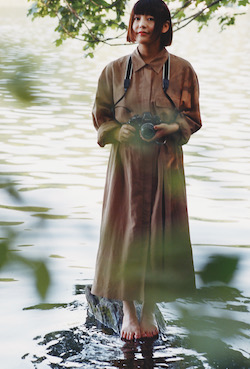 SHIKATA KARIN
PHOTOGRAPHER / FOTOGRAFIN
BASED IN BERLIN
Photographer. I moved to Berlin because Wolfgang Tillmans is my favorite photographer. This is my fifth year in Berlin.
My work focuses on the nature of lakes in Berlin and the Baltic Sea.
I am inspired by the musicians and dancers whom I met in Berlin.

I've held various exhibitions not only in Berlin but also in Paris, Amsterdam etc.
Since December 2018, I became a director and curator of the gallery "THE ART OF SEPTEMBER" in Amsterdam.
四方花林
写真家
ヴォルフガング・ティルマンスが好きだったのでベルリンに移住して、今年で5年目。
ベルリンの湖やバルト海の自然をテーマにした作品を制作。
ベルリンで出会ったアーティストの音楽やダンスから、作品のインスピレーションを得ている。
ベルリン、パリ、アムステルダムなどで展示を開催。
2018年12月より、アムステルダムにあるギャラリー"THE ART OF SEPTEMBER" の
ディレクター兼キュレーターとしても活動している。

@karinkamera
@berlinfoodstylistics
@berlinbabystylistics
@art_sep_ams

EXHIBITIONS
| | | |
| --- | --- | --- |
| 2021.01 | Malerei und Fotos | Gesundheitszentrum Potsdamer Platz, BERLIN |
| 2020.09 | SICF21 | SPIRAL, TOKYO |
| 2019.12 | Your past and your future | THE ART OF SEPTEMBER, AMSTERDAM |
| 2019.11 | Two sides of the Moon in Japan | Sta. , TOKYO |
| 2019.07 | Musik in der Komorebi | Geelvinck Muziek Museum, ZUTPHEN |
| 2019.05 | Two sides of the Moon in UK | 971620 art gallery, LUTON |
| 2018.12 | flow | THE ART OF SEPTEMBER, AMSTERDAM |
| 2018.11 | Falling | Picture Books, BERLIN |
| 2018.11 | You & I | strobe cafe, TOKYO |
| 2018.10 | feeling blue | duvetica, TOKYO |
| 2018.9 | Afterimage of emotion | fringe coffee paris, PARIS |
| 2018.5 | berlin food stylistics | Apartment Hotel Shinjuku, TOKYO |
| 2018.4 | berlin food stylistics | soho print store, LONDON |
| 2017.11 | Feeling blue at the end of summer | Picture Books, BERLIN |
| 2017.9 | LOVE | Inspired By Starbucks Ikejiri, TOKYO |
| 2017.4 | after image dance | Soho Print Store , LONDON |
| 2017.2 | Hybrid Art Fair | Hotel Petit Palace Santa Bárbara , MADRID |
| 2016.11 | TOKIO ALIENS | Cafe Ole , BERLIN |
| 2016.9 | MORGEN MORGEN | Gallery JIB , TOKYO |
| 2016.6 | I R O I R O | Mozzino, LONDON |
| 2016.2 | r i a r i a | Gallery small view, TOKYO |
| 2016.2 | OSAKA COLORFUL KEIKAKU | Hankyu Department Store, OSAKA |
| 2015.11 | LONDON★LONDON | Hanshin Department Store, OSAKA |
| 2015.10 | K i R A K i R A | Gallery JIB, TOKYO |
| 2015.1 | Tokyo Cinderella Dolls | SPRMRKT, SINGAPORE |
| 2014.12 | Fall in Love with KYOTO, beginning of the journey | Iemon Salon, KYOTO |
| 2014.8 | Origami Daydreaming | Cafe Salvador, TOKYO |
| 2014.8 | LONDON tour experience in GINZA | Matsuya Ginza, TOKYO |
| 2014.7 | I'll be a Superstar & come to get you by Vespa!! | Mozzino, LONDON |